Karastan Carpet
Karastan has taken flooring into a bold, new direction since its beginnings and introduced American's to the concept of walking in comfort. Karastan products are designed to stand the test of time and continue to set industry standards for durability, comfort, and style.
Karastan carpets and rugs can handle everything from a busy household to pet accidents. Not only that, but karastan takes extreme care in making sure their carpets and rugs are on trend with the latest styles. You can rest assured that these carpets are made to be long-lasting and resistant to staining. Karastan wool carpets, for example, will naturally resist dirt and other particles. Their collection of carpets features options that are designed for durability as well as style, so you do not have to sacrifice either for a quality carpet in your home. Karastan's lifestyle collection is designed to suit your home décor and daily needs.
Be sure to visit us at Floor to Ceiling Carpet One Floor & Home in Dickinson, ND to take advantage of our selection of Karastan carpets!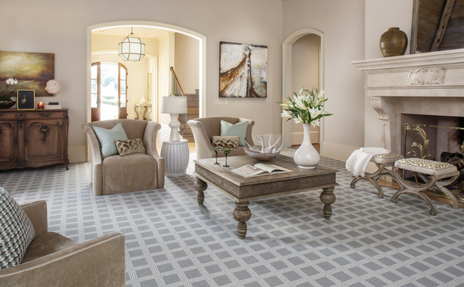 Our Karastan Selection
If you have children or pets, then Karatsan's SmartStrand collection is perfect for you. These carpets feature incredible durability and resistant to wear and staining. Karastan knows that your pets are just as much a part of your family as your children, and they make sure your flooring can handle life's little accidents.
SmartStrand Silk
Choosing softness doesn't mean you have to give up performance. Karastan has packed more than 700 silk-like fibers into one yarn that is ultra-soft and incredible durability.
SmartStrand Forever Clean
SmartStrand Forever Clean is the only carpet with stain resistance that lasts a lifetime built into the core of the fiber. Other carpets use topical treatments that are applied after production that can wear off over time and leave your carpet unprotected.